Posted March 1 by Lukas Horak
Mar 01 by Lukas Horak
How will technology shape UX Design in 2019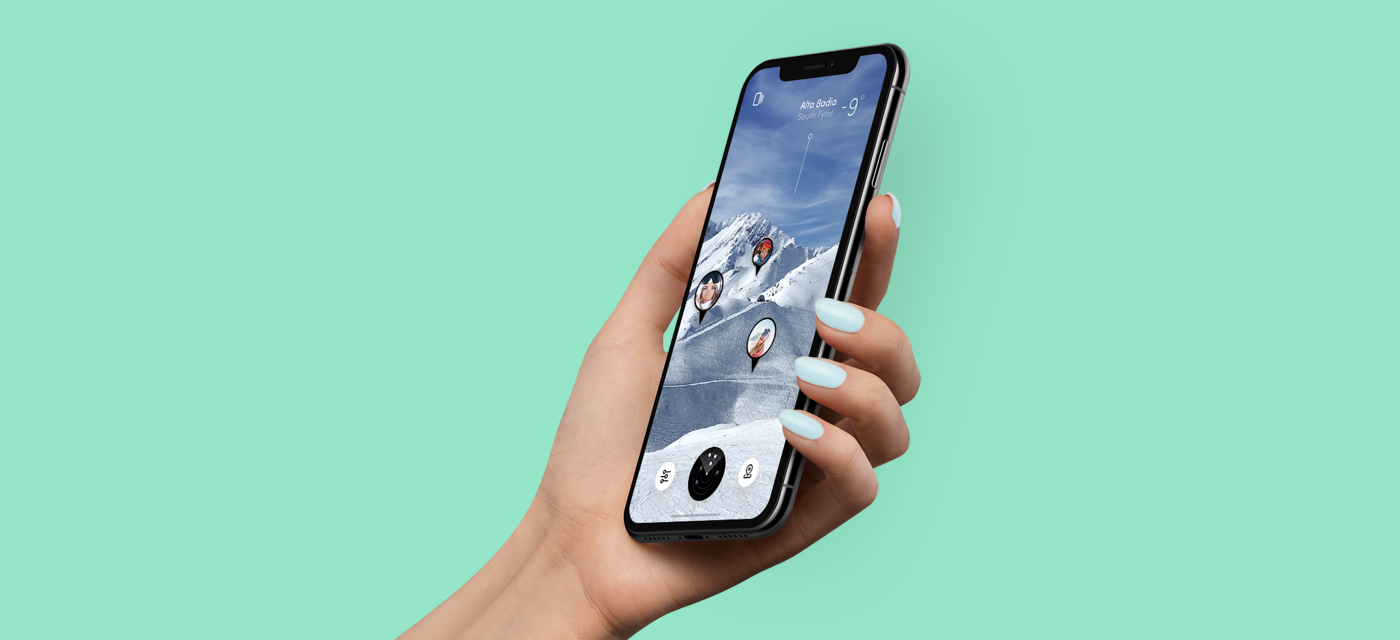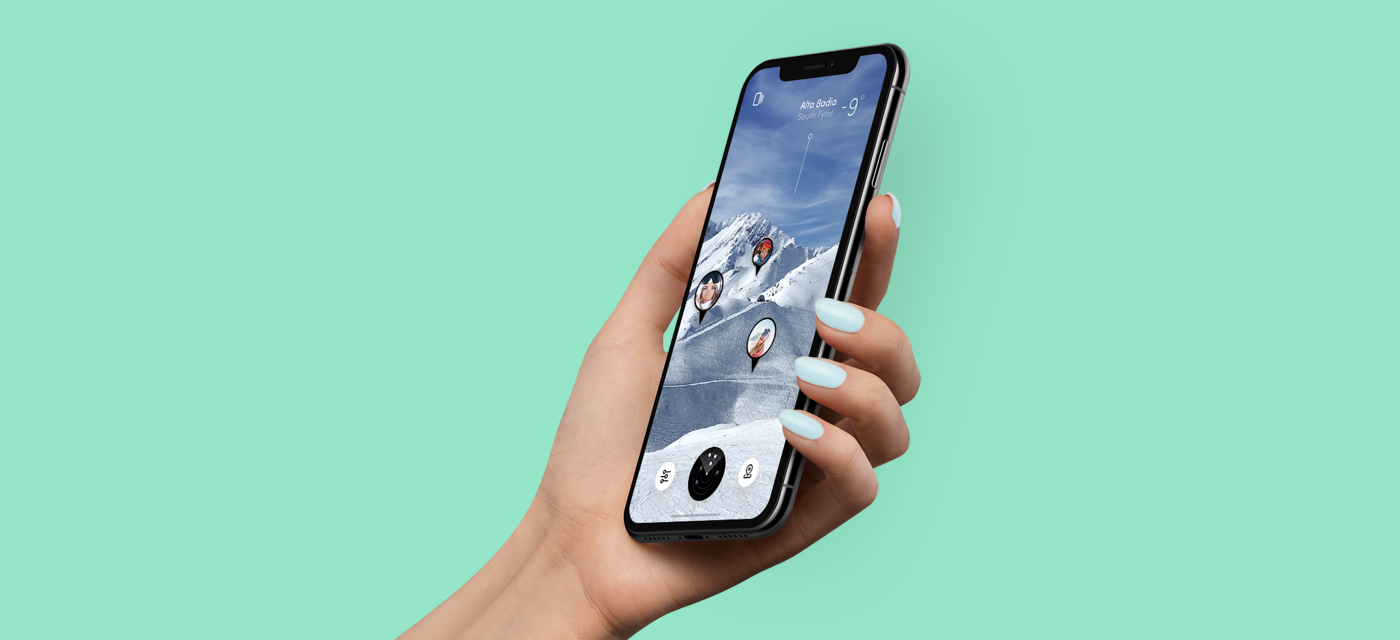 New year, new trends. It is really crucial to keep up with the latest trends in technology, one of the most dynamically changing industries of all. The same applies to the mobile app and web design scene. 2019 trends are widely influenced by the behavior of users, by the number of smart devices used and technological advancement.
We are not going to waste your time by writing about the use of illustrations, micro interactions, gradients, and other design elements that are already used and will be used also in 2019. In this article, we will only focus on the most significant trends for 2019.
Deep Flat (Flat 3D) for more interesting digital experience
Flat designs have been dominating the UI design industry for more than 5 years. In comparison to 3D design, flat design has its advantages such as short loading time. But designers try to make user interfaces more interesting and started to play with shadows, light positioning, and reflections in order to create depth. Using the latest design tools, designers can now combine shadows with grids and achieve 3D illusions that look realistic. Be ready for a design experience that falls between 2D and 3D. The potential for use must be explored in the upcoming projects this year.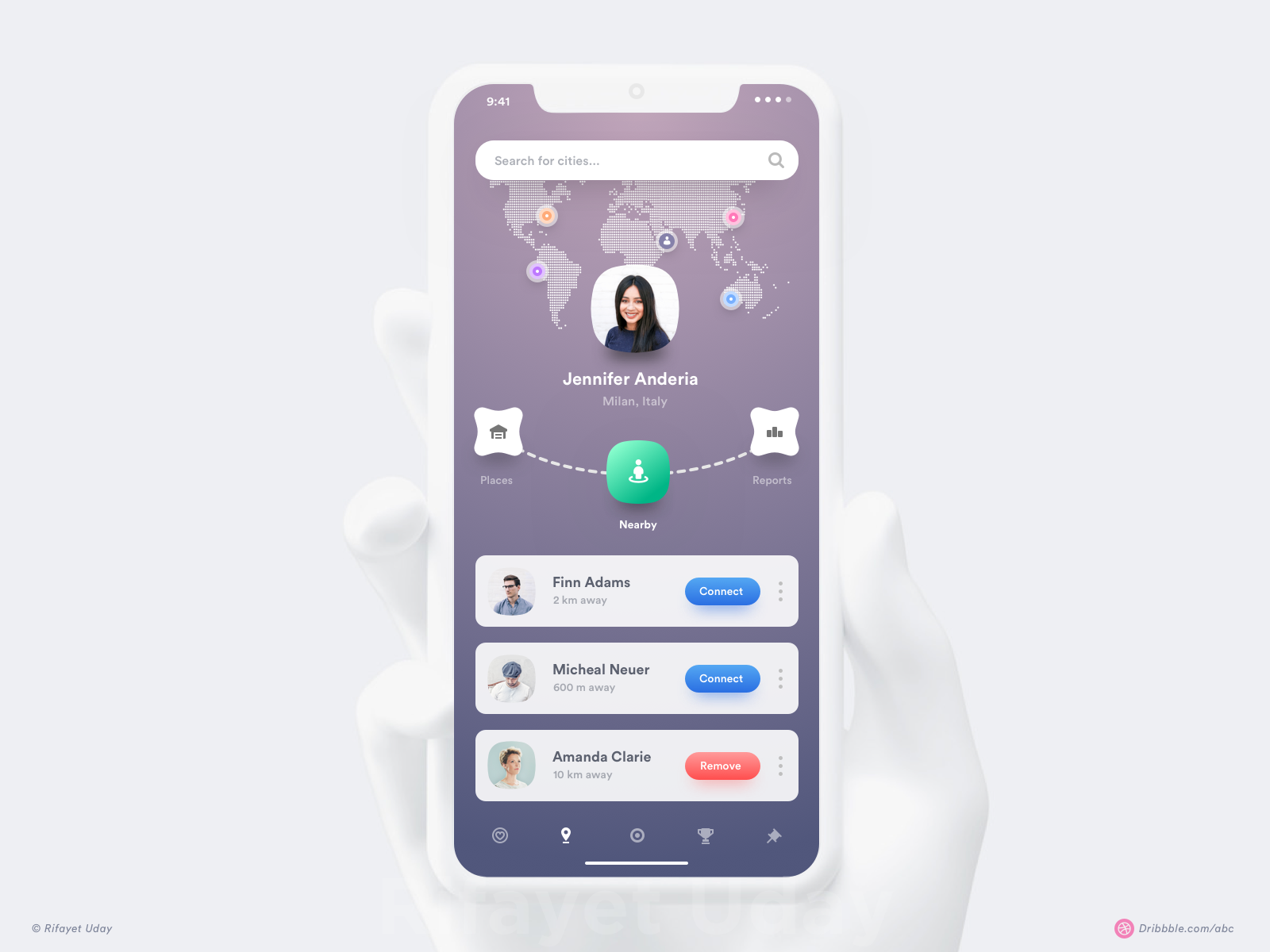 Deep flat design by
Rifayet Uday
Voice UI for faster and easier UX
We are already using voice commands with our technology like Siri by Apple, Google Home, Alexa by Amazon and others. Voice UI offers a faster, easier and more delightful way of controlling computers and devices by allowing users to use a voice input. In 2019, it has been predicted that about 50 percent of all search engine queries will be voice-based. Businesses should take this fast-evolving VUI technology into consideration as the following year could prove immensely decisive.
VUI is here to help users with disabilities, be it colour blindness, haptic inabilities or other such conditions. Designing for inclusivity enables people with diverse characteristics to use a product in numerous ways in which people can participate in an experience.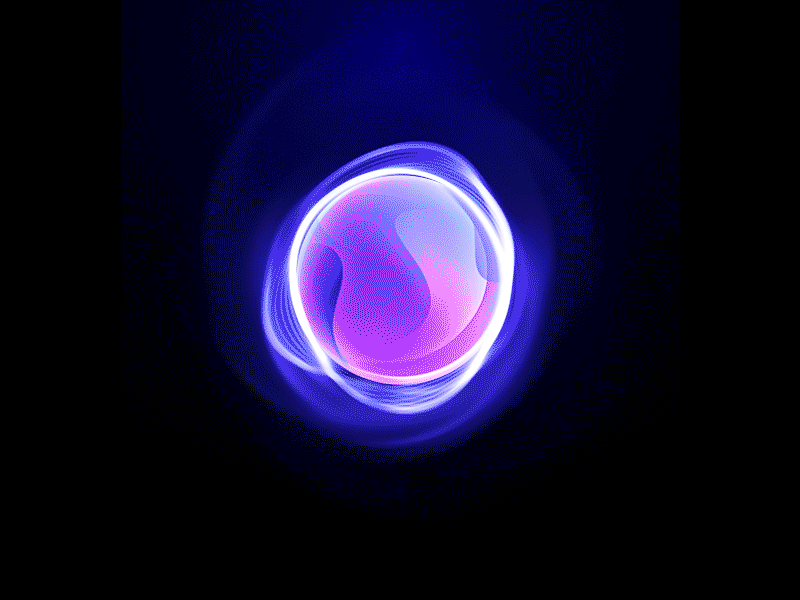 Organic Artificial Intelligence design by
Gleb Kuznetsov
Augmented reality as the new frontier
Augmented reality is slowly but surely making its way into the fields of web and app design. It started with the games, but companies are now using AR to connect their brands with customers. In 2019, designers will be forced to think beyond screen-only interactions and anticipate the user's next moves to create the best interface possible.
Augmented reality will be used to help users in real life situations like setting up electronic devices, helping people navigate through airports, explore foreign cities and much more.
Read more about 8 Things To Know When Designing Augmented Reality.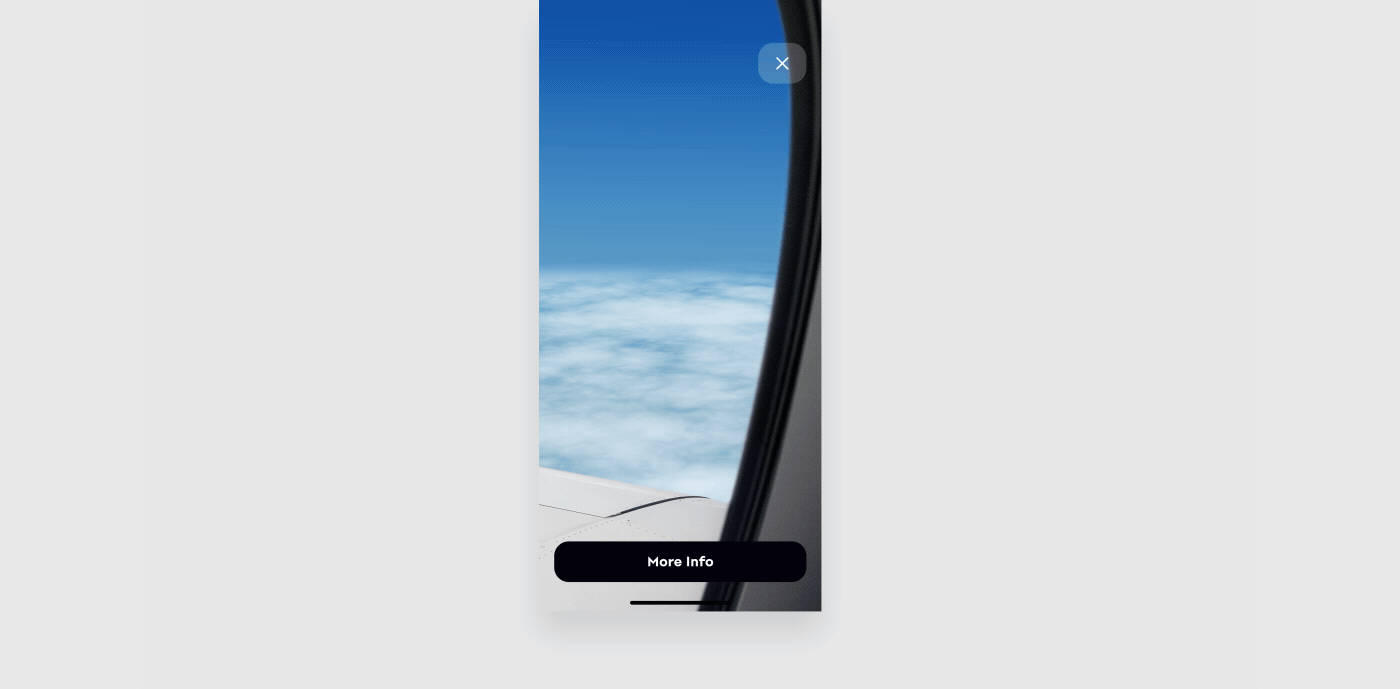 PLATFORM's
AR app concept
Multi-device design continuous UX
Smartphones changed the way people are accessing information. Therefore, "mobile-friendly" or "mobile-first" became the keywords when designing a website. Responsive design became crucial, 60% of users say they will not recommend a business that has a badly designed mobile site. But now the market is full of different smart devices and by 2020 the number of connected devices per person will rise to 6.58. In 2019 the approach towards smartphones will shift towards multi-device experience. Device-agnostic UX is about creating a journey that can be experienced on different devices. Like calling an Uber with Google Home and then finish the transaction using a smartphone.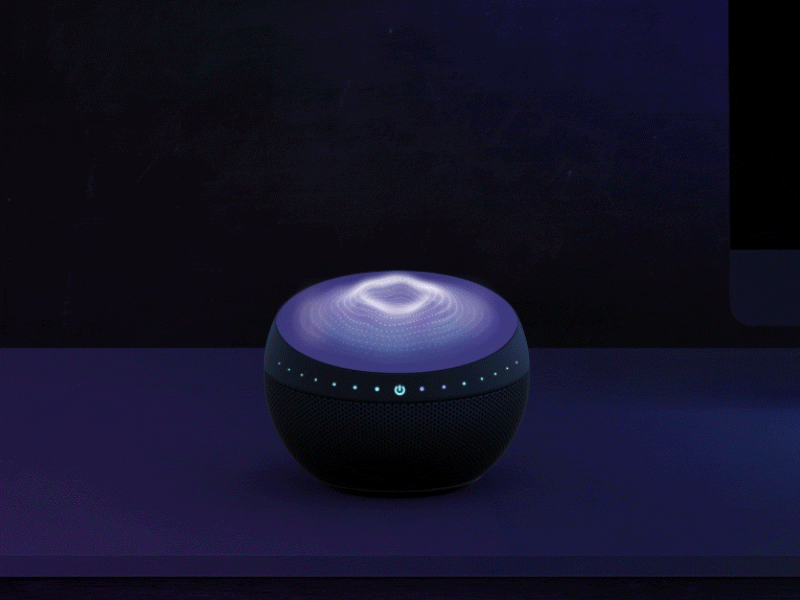 PLATFORM's
Smarthome device
Design systems for more efficient workflow
The last few years were all about design systems. We're seeing more and more brands using them to ensure consistency throughout a whole interface.
One popular method that helped our design agency PLATFORM design consistent interfaces is Atomic Design. It's an approach conceived by Brad Frost, in which components of an interface are broken down into five categories – atoms, molecules, organisms, templates, and pages. Atoms are the smallest components and cannot be broken down any further, such as buttons for example. Then, the molecules are small groups of components that have merged to form new functions, like search bars. Organisms are whole sections within the interface, for example, a website's navigation menu or a gallery in an online store. Finally, the templates define the various pages' layouts, and the pages present what the actual product will look like, along with representative content.

By implementing this system of reusable components, we can make changes and adaptations to our UI more easily, faster and with different designers in the team. It's beneficial for both designers and developers.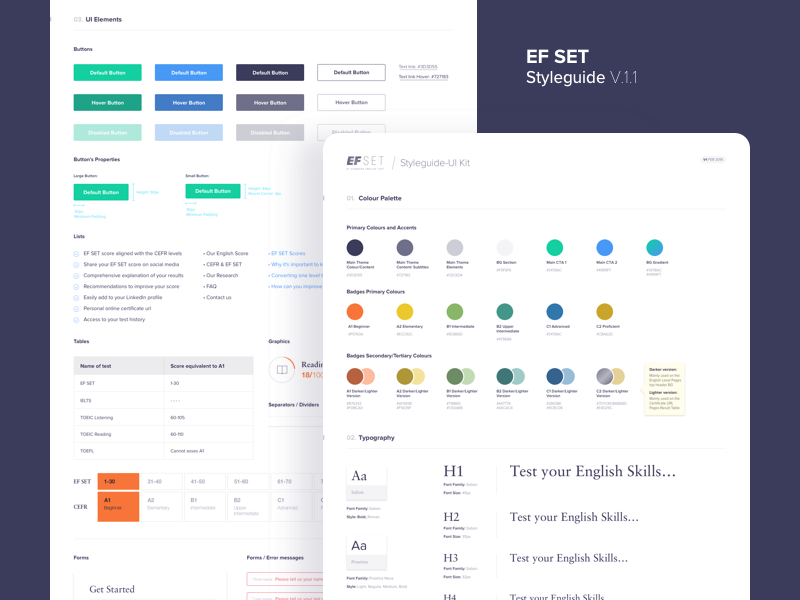 Styleguide created using Atomic Design Methodology by
Adriano Reyes
Night or dark mode for protecting the user
With Apple's introduction of Dark mode user interface color scheme option in MacOS Mojave, we have to prepare for the dark times. More and more websites will have a night or dark mode. Some of them like Medium or Twitter already use this setup. The advantages of dark color themes are that it won't hurt your users' eyes, it looks good on the latest OLED screens and it also saves battery life. But night/dark mode it's not about inverting colors, it requires more time to come up with a color scheme that works well with the brand, and also a lot of testing. Get ready to join the dark side.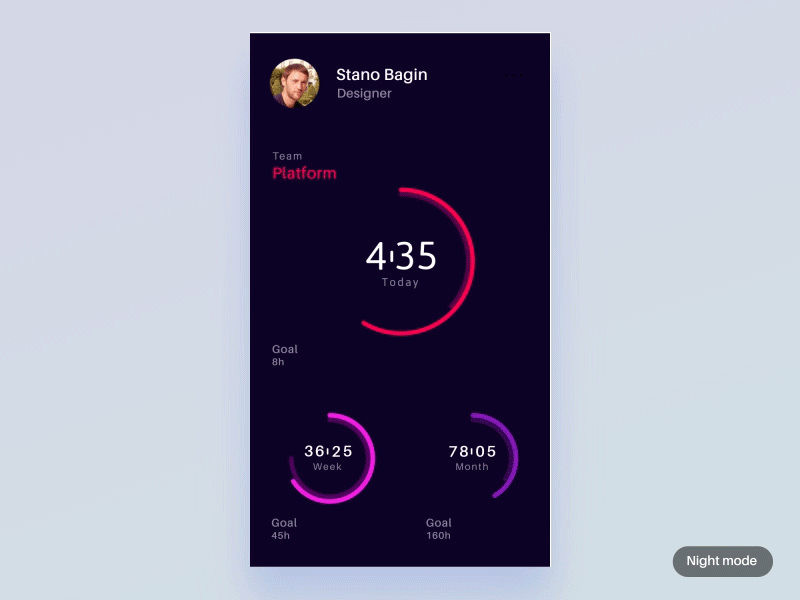 The night mode of PLATFORM's
Tracker App
Tailored content with the help of AI
The rise of artificial intelligence is making people demand more from technology. When users are using either an app or a website regularly, they expect to see everything they want. Tailored or personalized content is what distinguishes a good product from an excellent product. One size doesn't fit all in 2019 and users want to see what they would want based on their preferences.
Read more about 7 Examples Of Personalization And Customization For Better UX.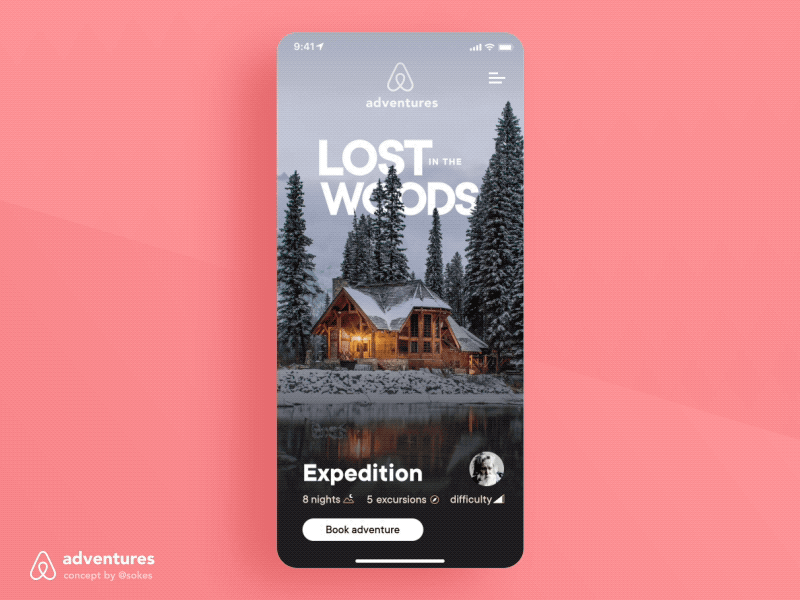 AirBnb uses more personalization tools at once. Concept by
Mike Sokol.
Wearables for solving everyday problems
Wearable technology is not limited to smartwatches only. Wearables are used in the healthcare industry to monitor sleeping habits, heart rates and more. Another example, are wearable devices that are helping us make payments or manage other simple tasks. Wearables will solve tons of everyday problems. The use of such devices is not anticipated to slow down anytime soon. This Forecast shows the number of connected wearable devices worldwide increasing from 325 million to 830 million between 2016 and 2020.
It's crucial to optimize the way a person uses and navigates these types of gadgets. UX design for wearable devices takes minimalism to a whole new level while simplifying the user experience and enhancing visual aesthetics.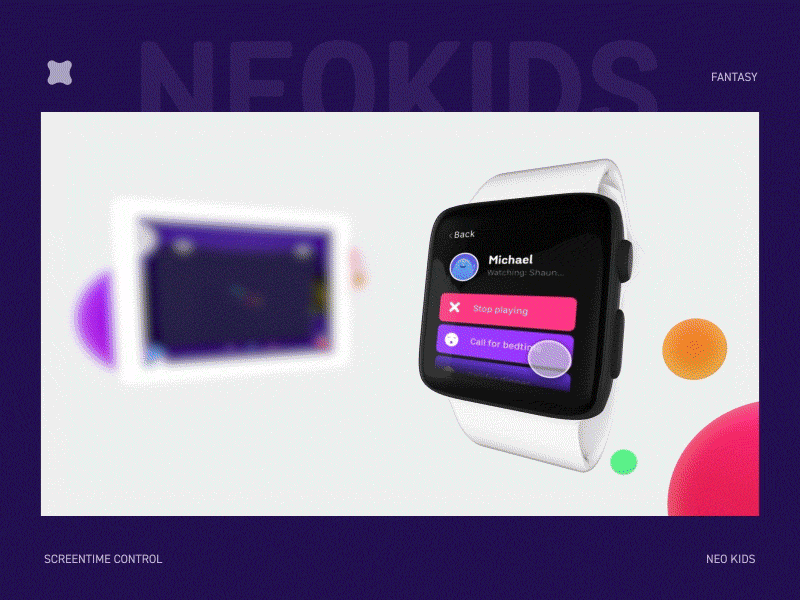 Parents can call their kids to dinner using just watches. Design by
Minh Pham
.
Conclusion
The second decade of the 2000s is approaching its end and UX and UI are constantly evolving. One thing remains constant. It all revolves around the user, who is using the product. We can't wait what 2019 will bring and certainly some new trends might emerge that we haven't predicted.